The Styles Agency is a Digital Marketing Agency in Richmond, VA
We are a digital marketing company from Richmond, VA that helps women's clothing stores and other small businesses in the USA get more customers, through online marketing solutions that are effective and guaranteed to produce great results.
Our digital marketing firm is all about giving small business clients a "Complete WOW Experience" through Great Service, Great Quality, and Great Results – Guaranteed.
Our Internet Marketing Services Include:
Website Design
How many more customers would you get if you had a website that took their breath away?
We are all about building websites that are attractive, on-brand, and optimized for search engines. Not only that, our turnaround time and quality both set a new standard when it comes to website design delivery times.
Want to learn more about our web design services? Visit our web design page or click on the button below.
A Website is Great For:
E-Commerce
Brick and Mortars
Service Providers
A Website Helps You:
Build an online presence
Increase conversions
Give your visitors a WOW experience
See a website we recently designed for a client in Richmond:
SEARCH ENGINE OPTIMIZATION (S.E.O SERVICES)
Are people not finding your business on Google, Yahoo, or Bing? That's a big problem, because right now you are missing out on potential customers. In fact, you're missing out on potential customers every single day. Customers in your area, and potential customers from other states (if you sell to other states).
At its core, an SEO marketing campaign is all about helping a website show up in search engine results, like Google Search results. And that's what needs to happen before you can start increasing your in-store and online traffic and sales.
Learn more about our top-rated SEO services by visiting our SEO page or clicking the button below:
SEO is Great For:
E-Commerce
Brick and Mortars
Service Providers
SEO Helps You:
Increase website traffic
Increase foot traffic
Reach your target audience
See what these Boutique Owners had to say after 3 months of SEO:
GOOGLE ADS MANAGEMENT
If you need more traffic, leads, and sales right now, then you need to run pay per click ads on Google.
With Google Ads, you can reach the right people in your area and/or beyond who are actively searching for the products and services you offer.
Google Ads is the only way to guarantee top placement in Google Search results, so if that's your immediate goal, then you need to work with an advertising agency that has a track record of producing tangible results for clients.
Our Google Ads Management service is a monthly service, and it covers everything you could possibly need to achieve great results.
Learn more about our Google Ads services by clicking the button below.
Google Ads are Great For:
Large E-Commerce
Brick and Mortars
Service Providers
Google Ads Helps You:
Increase leads quickly
Increase online traffic quickly
Get top placement on Google quickly
Visit our Google Ads page to see more ad campaign results like this: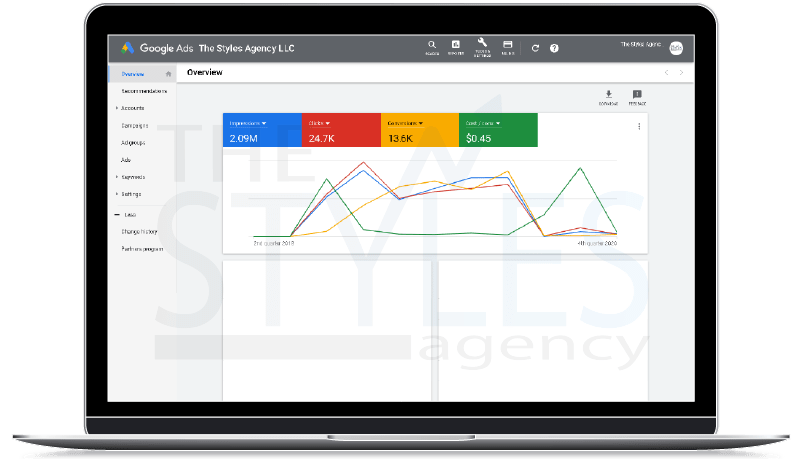 Digital Marketing AGENCY Awards:
We are honored to be recognized as one of the top digital marketing agencies in Richmond.

"They are very creative, always willing to chat and have really helped my online presence. I highly recommend them!!!"
– Ruth McMahon, Owner at Kiss & Make-Up.

"The Styles Agency goes above and beyond to meet the needs of their customers."
– Darlene Tyler, Owner at Joyful Organizing.

"The Styles Agency is a fantastic company. They have helped me tremendously as I started my non-profit organization."
– Theresa Sears, Executive Director at Lets Go Services.
Edgewood Outfitters
2022-01-29
the styles team has been truly amazing to work with, Savannah has really taken the time to work with us and help us drastically improve our SEO! since we signed on with the team we have seen lots of great traction and lots of positive improvement! We have also started getting orders which we did not have before using her services! We highly recommend anyone looking for seo to use her services!!!!!!!!!!! so glad to have a great team behind us 🙂
DrakeRdOrthodontics
2021-11-16
We really enjoy working with Savannah! She does a great job with online marketing and is always very helpful.
I began my on-going working relationship with Savannah and Chris in late 2019. I had them build and optimize my website and my business has grown by 10% (even in COVID times!) Savannah is incredible to work with and she has a true passion for her work. She is always up for helping me curate new ideas to stay in front of my audience. The Styles Agency has helped me with so many different projects and I am truly grateful that they do the high quality hard work for me and make it affordable at the same time. Give them a try and thank me later!!!
The Styles Agency goes above and beyond to meet the needs of their customers. Being new to starting a business, and trying to design a website, facebook business page, and Instagram on my own was very overwhelming. From our first encounter I immediately felt I had someone on my team helping me through the process. Working with Chris and Savannah has been an absolute pleasure. They have always been very professional, personable, and accommodating. Their can-do attitude is refreshing in this day and time. I would highly recommend The Styles Agency for all of your social media needs. Darlene Tyler Joyful Organizing
Janice L. Jones
2020-04-03
I cannot tell you how happy I am to have found The Styles Agency. I started the Spotsy Arts Festival fours years ago and they are my fourth and final web designers. They designed a site that is attractive, fast, enticing and, to me, reflected what an art festival site should be. In other words it was not a static bland presentation. They are very responsive, as I need many updates, and so easy to work with. THANK YOU SAVANNAH AND CHRIS!!! You cannot go wrong when you work with these two!
WOW!! Thorough, quick, honest and trustworthy!! Savannah and Chris from the very beginning wanted to understand the ins and outs of my branding and business. They wanted to get to know me, and what kind of clients I attract, what I love, what I need. all for my website. My website looked OUTSTANDING. Better than I could have imagined. My traffic to my website exploded thanks to their expertise in SEO!! Thank you Savannah and Chris for making my project feel like it was the most important project on your plate!
The Styles Agency is a fantastic company. They have helped me tremendously as I started my non profit organization. They answer all my questions in terms I can understand and do it in a timely manner. They are very insightful making suggestions about things I had not thought about. My web page and Facebook page look fabulous. I get a lot of compliments on them. I would recommend The Styles Agency to anyone that needs help with their social media accounts. Theresa Sears Founder/ Executive Director Lets Go Services
Chris and Savannah are doing an amazing job as my social media consultants. They are very creative, always willing to chat and have really helped my online presence. I highly recommend them!!!
Michael Morrison
2018-10-03
Savannah is an absolute pleasure to work with. I've been working with The Styles Agency for 3 weeks now, and everything I've needed done with my website and social media has been completed quickly and the quality of their work is top notch. I highly recommend them for their skills, work ethic, and excellent service. - Mike
Check Your Website SEO For Free!
Are you wondering if your website has SEO issues on it? Our Website SEO Audit Tool scans your website and points out technical SEO issues that need to be fixed. The results of your scan will be sent to your email in less than 2 minutes. The entire process is quick and painless, so why not?!
We Look Forward To Helping You Get More Customers!
If you need a beautiful website as soon as possible…

If you want to rank higher in search results…

If you need to get traffic, leads, and sales quickly…
Want to learn more about digital marketing and find a few tips to help you along your way?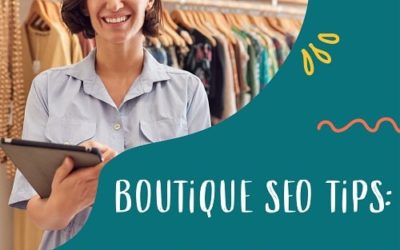 Boutique SEO Tips – 10 EASY Boutique SEO Tasks You Can Do Today! There are basic SEO tasks that any clothing boutique owner should be able to do without hiring a digital marketing or SEO agency. The entire list we compiled include basic SEO tasks our junior SEO team...
read more