Welcome to The Styles Agency – A Digital Marketing Agency in Richmond, VA!
At The Styles Agency, we're passionate about empowering small businesses across the USA to thrive in the digital landscape. Our mission is simple: we help you get more customers through effective and guaranteed online marketing solutions.
Experience the "Complete WOW Experience" with Us
We pride ourselves on delivering the "Complete WOW Experience" to our small business clients. What does that mean? It means you can expect exceptional service, top-notch quality, and, most importantly, great results – all backed by our guarantee.
Discover Our dIGITAL Marketing Services:
Website Design that Wows:
Imagine a website that leaves your visitors breathless! Our web design services focus on creating attractive, on-brand, and search engine optimized websites.
With quick turnaround times and unmatched quality, we set new standards in website design delivery.
Great For:
E-Commerce
Brick and Mortars
Service Providers
Helps You:
Build an online presence
Increase conversions
Give your visitors a WOW experience
See a website we recently designed for a client in Richmond:
SEARCH ENGINE OPTIMIZATION (S.E.O SERVICES)
If your business isn't showing up on Google, Yahoo, or Bing, you're missing out on potential customers daily.
Our data-driven SEO services will boost your website to the top of search results. This leads to higher online and in-store traffic and sales.
Perfect For:
E-Commerce
Brick and Mortars
Service Providers
Helps You:
Increase website traffic
Increase foot traffic
Reach your target audience
See what these Boutique Owners had to say after 3 months of SEO:
GOOGLE ADS MANAGEMENT
Need more traffic, leads, and sales right now? Our Google Ads Management service, also known as "Pay per click," ensures you reach the right people actively searching for your products and services.
With top placement in Google Search results, expect quick and tangible results.
Ideal For:
Large E-Commerce
Brick and Mortars
Service Providers
Helps You:
Increase leads quickly
Increase online traffic quickly
Get top placement on Google quickly
Visit our Google Ads page to see more ad campaign results like this: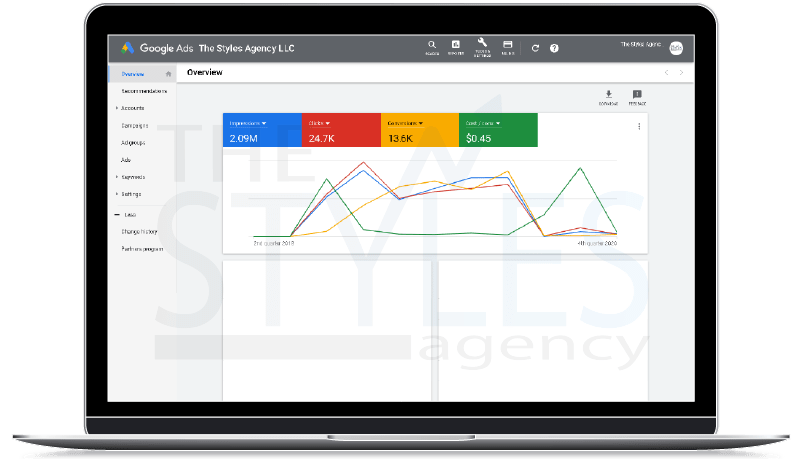 Award-Winning Digital Marketing cOMPANY:
We're honored to be recognized as one of the top digital marketing agencies in Richmond. Our accolades include:
Best Web Designer in Richmond
Best Social Media Agencies in Richmond
Best Social Media Marketing Agency in Richmond 2021 Award
Best Branding Agency in Richmond 2021 Award
Best Digital Marketing Agency in Richmond 2021 Award
Testimonials from Happy Clients:

"They are very creative, always willing to chat and have really helped my online presence. I highly recommend them!!!"
– Ruth McMahon, Owner at Kiss & Make-Up.

"The Styles Agency goes above and beyond to meet the needs of their customers."
– Darlene Tyler, Owner at Joyful Organizing.

"The Styles Agency is a fantastic company. They have helped me tremendously as I started my non-profit organization."
– Theresa Sears, Executive Director at Lets Go Services.
Savannah and the team are very thorough in their work, professional, easy to talk to and work with as well. My business, All About The Grapes has taken off thanks to The Styles Agency! I love watching my ideas turn into reality thanks to her genius brain! Thank you so much!! Cheers to the bright future ahead!😎
Edgewood Outfitters
2022-01-28
the styles team has been truly amazing to work with, Savannah has really taken the time to work with us and help us drastically improve our SEO! since we signed on with the team we have seen lots of great traction and lots of positive improvement! We have also started getting orders which we did not have before using her services! We highly recommend anyone looking for seo to use her services!!!!!!!!!!! so glad to have a great team behind us 🙂
DrakeRdOrthodontics
2021-11-16
We really enjoy working with Savannah! She does a great job with online marketing and is always very helpful.
I began my on-going working relationship with Savannah and Chris in late 2019. I had them build and optimize my website and my business has grown by 10% (even in COVID times!) Savannah is incredible to work with and she has a true passion for her work. She is always up for helping me curate new ideas to stay in front of my audience. The Styles Agency has helped me with so many different projects and I am truly grateful that they do the high quality hard work for me and make it affordable at the same time. Give them a try and thank me later!!!
The Styles Agency goes above and beyond to meet the needs of their customers. Being new to starting a business, and trying to design a website, facebook business page, and Instagram on my own was very overwhelming. From our first encounter I immediately felt I had someone on my team helping me through the process. Working with Chris and Savannah has been an absolute pleasure. They have always been very professional, personable, and accommodating. Their can-do attitude is refreshing in this day and time. I would highly recommend The Styles Agency for all of your social media needs. Darlene Tyler Joyful Organizing
Janice L. Jones
2020-04-03
I cannot tell you how happy I am to have found The Styles Agency. I started the Spotsy Arts Festival fours years ago and they are my fourth and final web designers. They designed a site that is attractive, fast, enticing and, to me, reflected what an art festival site should be. In other words it was not a static bland presentation. They are very responsive, as I need many updates, and so easy to work with. THANK YOU SAVANNAH AND CHRIS!!! You cannot go wrong when you work with these two!
WOW!! Thorough, quick, honest and trustworthy!! Savannah and Chris from the very beginning wanted to understand the ins and outs of my branding and business. They wanted to get to know me, and what kind of clients I attract, what I love, what I need. all for my website. My website looked OUTSTANDING. Better than I could have imagined. My traffic to my website exploded thanks to their expertise in SEO!! Thank you Savannah and Chris for making my project feel like it was the most important project on your plate!
Earn $200 Amazon Gift Card for Every Referral!
Join our Referral Program and earn a $200 Amazon Gift Card for every successful referral you make. Help your friends and colleagues grow their businesses while earning a fantastic reward.
Ready to Thrive Online? Let's Connect!
Whether you need a stunning website, top-notch SEO, or a Google Ads strategy, we're here to help you achieve your digital marketing goals. Contact us today to get started!
If you need a beautiful website as soon as possible…

If you want to rank higher in search results…

If you need to get traffic, leads, and sales quickly…
Explore Our Recent Marketing Articles:
Stay updated with the latest digital marketing trends and get valuable tips to boost your business's online presence.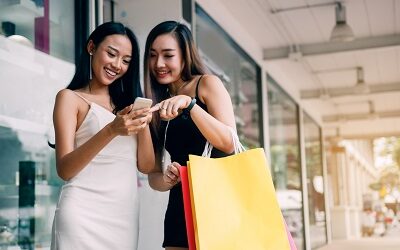 Google Business Profile Optimization Guide.Google Business Profile (formerly Google My Business) is a powerful tool for businesses to attract more customers and clients, particularly locals. Fully optimizing your Google Business Profile listing is essential for...
read more