How can I increase foot traffic in my retail store?
You can increase foot traffic to your brick-and-mortar store drastically by following these three steps: Get listed on Google My Business; Keep customers engaged via email and social media; and proactively bring people into your store.
I recently took a trip down to Williamsburg to meet with one of our small business clients who are in the Premium Outlets, a prime retail location for a clothing store.
And I couldn't help but to notice that every clothing store sales associate was waiting for people to come in. The parking lot was full of cars coming and leaving, the sidewalks were busy, but nobody was outside of their store, identifying their target audience and bringing them in, or making any effort to proactively showcase and sell their products.
That's why tip number three is "Proactively bring people into your store". It's a gorilla marketing tactic, and perfectly suited for your sales associates. If you need to drive foot traffic, you shouldn't leave anything off the table.
If you don't have a strong sales team, don't worry. A shy teenager could easily bring people into your store. More on that later…
How to increase foot traffic to your retail store.
1. Get listed on Google My Business.
If you don't have your business listed on Google, stop what you are doing and sign up for a Google Business Listing here: https://www.google.com/business/.
If you already have a Google My Business page, make sure you post updates and offers and upload photos on your listing every week (ideally, every day).
Another thing you can do to boost your foot traffic and your Google My Business listing is to increase the number of reviews you have. The businesses with the most reviews have the strongest reputation and therefore outrank their competitors on GMB.
2. Keep customers engaged with email and social media.
If you're not already building your email list and social media following, you should get to that ASAP. Get a free plan with Mailchimp and sign up for Instagram, Tik Tok, Facebook, Pinterest, and other social media networks.
With email marketing, you can continue to promote new releases, clearance items, exclusive deals, LTOs, and more. The best part is, the people on your email list have already bought from you or at least shown interest in buying from you, so market to them!
With social media marketing, you want to be creative and post videos of you or a team member selling a product (telling the audience about the product and selling them the benefits of owning the product). The top producing boutiques, the ones that earn over $1 million in annual revenue are constantly creating video content on social media and showing off their products.
3. Proactively bring people into your store. 
Window displays are great and all, but making a human connection is better. It's the humans who create the store experience and cultivate customer loyalty, which builds a human connection between your store and the customers you serve. What you need to do is get people into your store so they can experience everything you have to offer!
It doesn't matter where you're located – there is ample space between your customers' car and your front door. Most of you may have a parking lot that you share with other retailers. Some of you are dab smack in the middle of the mall.
That's a lot of space, full of potential customers, who you could approach and bring into your store.
Here's an example of how this would work.
You get your most social team member to leave the store and look for people who would buy your products. If you've hired nothing but shy people, then have one of them do it with you a few times. If you're a clothing store that sells hippie clothing, your team member should be out there looking for hippies or at least people with hippie vibes.
The team member approaches the potential customers and simply says, "Hey, I have the perfect pair of jeans for you. Can I show them to you real quick?" All you want to do is offer customers a specific item or solution and then show them where it is.
The potential customer agrees, and then your team member brings them into the store to show them the perfect pair of jeans (or the perfect whatever you sell).
Now I know that there will be objections and sometimes your team member might bring someone in who could never afford what you're selling. Sometimes that happens. Don't give up.
There's no reason why you couldn't be the only retailer on the block who is proactively bringing people into the store. Even if you're not allowed to headhunt the parking lot (solicit), there's nothing saying you can't talk to people in the parking lot… It's not your fault that small talk turned into a sale.
You also need a solid retail marketing strategy.
A general marketing strategy may work, but since you're in retail, you need someone who specializes in retail marketing. You need someone who has experience driving traffic to physical stores and a track record of increasing sales from marketing efforts.
If you're on a tight budget, I would highly recommend that you capitalize on social media platforms like Instagram, Pinterest, and TikTok. And if you have an interest in SEO, you can try to do it yourself, or just delegate the SEO stuff to someone who specializes in SEO… That'll save you a lot of time, I promise.
If you want to increase your in-store traffic, you should get started with SEO ASAP.
I know a lot of people think that SEO only benefits online stores, and that's not true! Under the umbrella of SEO there is Local SEO, and Local SEO is designed to help you increase your in-store AND online traffic.
Check Your Website SEO For Free!
Are you wondering if your website has SEO issues on it? Our Website SEO Audit Tool scans your website and points out technical SEO issues that need to be fixed. The results of your scan will be sent to your email in less than 2 minutes. The entire process is quick and painless, so why not?!
If you're struggling with SEO, then you may want to start asking, "Who?" Not "How?"
SEO is very complex. You could spend hours on YouTube and Google trying to learn it all as you go, or you could find high-quality SEO professionals to do it all for you.
Would you rather get SEO tips or SEO results?
Interested in hiring SEO experts?
Learn more about our Local SEO services and see all the awesome benefits that we packed into our Ultimate Local SEO program.
Want to learn more about digital marketing and find a few tips to help you along your way?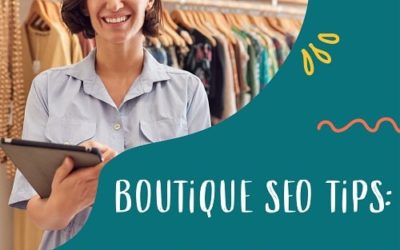 Boutique SEO Tips – 10 EASY Boutique SEO Tasks You Can Do Today! There are basic SEO tasks that any clothing boutique owner should be able to do without hiring a digital marketing or SEO agency. The entire list we compiled include basic SEO tasks our junior SEO team...
read more