What is an SEO Report For a Website?
An SEO report for a website can uncover many different issues on your website that are holding you back from ranking high in search results. Every company offers different SEO reports for websites. The point is to show you where your company appears (ranks) in organic search results.
Some SEO reports will cover one aspect of SEO, such as technical SEO or site speed. Others will analyze your technical SEO, on-page SEO, site speed, and content.
You'll want to use these reports to influence your SEO strategy and to help you determine if your past SEO efforts are paying off.
Let's dive into what you may see on an SEO report on your website!
This article does not cover the different types of audit tools, report tools, or SEO report templates that agencies use.
Here's a breakdown of what you can expect to see on an SEO report for your website.
Technical SEO has a lot to do with the construction of your website, and how it's all put together. On a technical SEO report, you will uncover broken links, duplicate content issues, missing meta descriptions, sitemap problems, internal linking issues, and more.
You wouldn't believe how many different technical SEO issues could exist on your website! Most of them are hidden – out of sight, so they're hard to find. Which is why it's useful to get a technical SEO audit done on your website.
A lot of agencies offer them for free – but beware! They will try to sell you SEO after you get one. That's just the way it goes…
Check your technical SEO for free! Just fill out the form below and we'll email the results to you within 2 minutes! AND WE WON'T TRY TO SELL YOU SEO AFTERWARDS!
Check Your Website SEO For Free!
Are you wondering if your website has SEO issues on it? Our Website SEO Audit Tool scans your website and points out technical SEO issues that need to be fixed. The results of your scan will be sent to your email in less than 2 minutes. The entire process is quick and painless, so why not?!
The point of showing you keyword rankings is to show you where your site ranks for specific keywords you should be showing up for. On this section of an SEO report, you may notice that your home page ranks high in Google Search when someone searches for your Brand name, but there are other organic keywords you want your website to rank for as well.
A keyword rankings report will show you which keywords you should be showing up for and how well you currently rank for each.
It's also worth noting that you can check your own keyword rankings for free using a tool called Google Search Console, which is different from Google Analytics – a free tool that shows you website analytics data. You should have both of those free tools set up for your website.
In most cases, websites don't rank as high as they could on Google Search because they don't have enough content, and the content they do have isn't really optimized for search engines and conversions.
A content analysis will uncover issues with the content on your site, such as not having enough, not targeting the right keywords, and more.
Some SEO reports for websites will include information about how a specific page on your website can be improved.
This report may give you a glimpse of which keywords you need to include on the page, which backlinks you need to obtain, how many words you should have on that web page, how many images and videos you should have compared to your competitors, and more.
You can test your site speed manually by testing every page on your website one-by-one using a tool like Page Speed Insights or GT Metrix. Those tools will show you what you need to do to make your website load faster.
In many cases, agencies use these tools in their reports. They just feed the data into a PDF and send it to you. (Automation makes life so much easier…)
If you can get someone to run a site speed test on your website and all the pages for you, that would save you hours or mundane labor.
In many cases though, the site speed test is only done on the home page and therefore only information about the home page's speed is shared in an SEO report that covers site speed.
Citations and Backlink Analysis
A citation, in terms of SEO, is an online directory that provides your business's contact information and a link to your website.
A backlink is a link to your website that's on another website. It's when another website provides a link to yours.
Search engines can see all these links, and savvy digital marketers and tools can quickly find every website that links back to yours.
This information is important, because there are a lot of spammy sites out there that will link to your website and too many of those can hurt your SEO.  
An SEO report that shows you which websites link back to yours can help uncover those spammy sites AND find credible websites that provide links to your website.
In some cases, an SEO report for your website can go into detail about your appearance on Google Maps.
Your Google My Business Page (business listing on Google) can help your business get more calls, in-person visits, and organic traffic to your website. So, you'll want to make sure that your business listing on Google is in top shape.
If you want to increase your online traffic, you should get started with SEO ASAP.
I know a lot of people think that SEO only benefits online stores, and that's not true! Under the umbrella of SEO there is Local SEO, and Local SEO is designed to help you increase your in-store AND online traffic.
If you're struggling with SEO, then you may want to start asking, "Who?" Not "How?"
SEO is very complex. You could spend hours on YouTube and Google trying to learn it all as you go, or you could find high-quality SEO professionals to do it all for you.
Would you rather get SEO tips or SEO results?
Interested in hiring SEO experts?
Learn more about our Local SEO services and see all the awesome benefits that we packed into our Ultimate Local SEO program.
Want to learn more about digital marketing and find a few tips to help you along your way?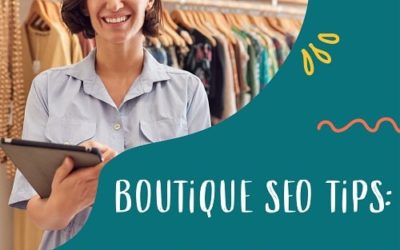 Boutique SEO Tips – 10 EASY Boutique SEO Tasks You Can Do Today! There are basic SEO tasks that any clothing boutique owner should be able to do without hiring a digital marketing or SEO agency. The entire list we compiled include basic SEO tasks our junior SEO team...
read more