From 1 Hundred to 1 Million Monthly Views on Google Search.
In this case study, we will explore how we helped a medical massage therapist achieve a remarkable transformation from a mere 100 monthly impressions on Google to over one million within a span of 12 months. We also outline the step-by-step strategies and actions we implemented to achieve this exceptional growth, starting from a point where the client's website generated no leads or traffic from Google and solely relied on referrals.
Jana, from Attune Massage Therapy, approached our agency with a common challenge. Her website struggled to attract organic traffic, and her business primarily relied on word-of-mouth referrals. To overcome this hurdle, our team devised a well-rounded plan, encompassing a website redesign, and Local SEO.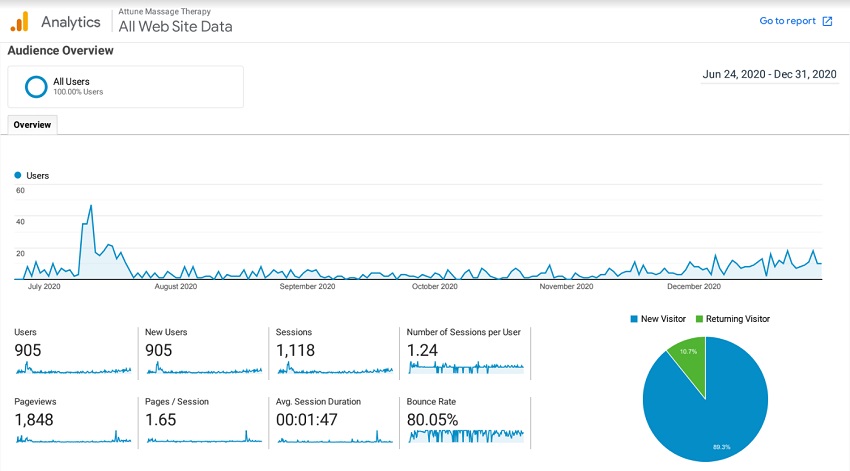 From June 24, 2020 to December 31, 2020 Attune Massage Therapy got 905 website visitors.
To begin the transformation, we recognized the need for an updated and user-friendly website. We collaborated closely with Jana to understand her unique business offerings and target audience. The result was a sleek and engaging custom website that effectively conveyed her brand's message. The website's content was rewritten to be concise, informative, and optimized for relevant keywords, thus laying the foundation for future SEO efforts.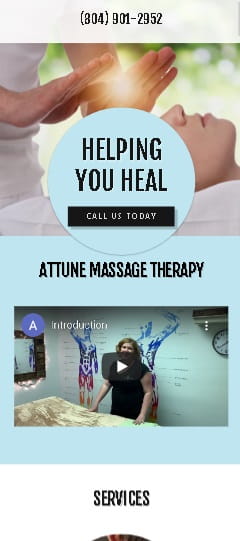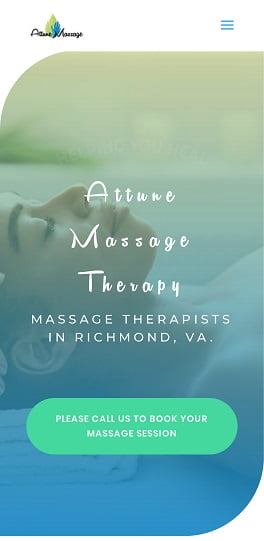 Website Redesign Review:
"I began my on-going working relationship with Savannah and Chris in late 2019. I had them build and optimize my website and my business has grown by 10% (even in COVID times!) Savannah is incredible to work with and she has a true passion for her work. She is always up for helping me curate new ideas to stay in front of my audience. The Styles Agency has helped me with so many different projects and I am truly grateful that they do the high quality hard work for me and make it affordable at the same time. Give them a try and thank me later!!!"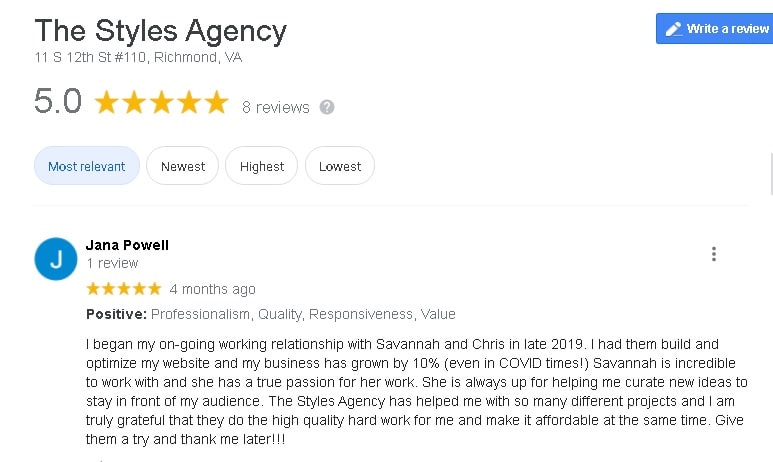 Incorporating Jana's goals and industry landscape, we formulated a custom strategy to boost her company's online presence. We identified two key focus areas – Selling a Couples Massage Workshop and attracting Temporomandibular Joint Disorder (TMJ) massage leads, all while leveraging the ongoing COVID situation to create tailored SEO strategy. To increase brand visibility and credibility, we worked on gaining local media exposure, while simultaneously encouraging clients to leave positive reviews and provide video testimonials.
A solid SEO foundation is vital for sustained growth in search engine rankings. We first optimized Attune Massage Therapy's Google Business Profile, ensuring it reflected accurate and up-to-date information. Next, we implemented basic on-page optimizations on the website, including title tags, meta descriptions, and alt tags for images. Additionally, we created highly relevant and informative service pages that quickly climbed to the top of search results, attracting targeted traffic and quality leads.
Recognizing the power of content marketing, we initiated a blog strategy centered around addressing common questions related to TMJ. These blog posts were designed to be informative and valuable to Jana's target audience, showcasing her expertise. The blog section became a resource hub for potential customers and further solidified Jana's authority in the medical massage industry.
Blog Post Performance on Google: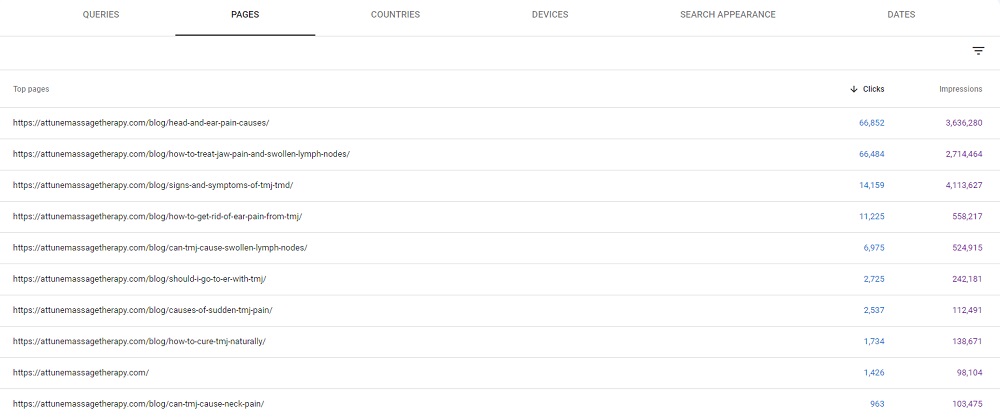 This screenshot shows blog posts reaching millions of people on Google Search.
Advanced SEO Optimizations.
As Attune's online presence grew, we turned our focus to advanced SEO techniques. One critical aspect was the implementation of Schema markup, which enhanced the website's visibility in search results by providing search engines with structured data about the business and services. This optimization helped improve the website's click-through rate and attracted more qualified leads.
After implementing the comprehensive strategies over the course of 12 months, the results were remarkable. The client's website experienced a staggering increase in organic traffic, with over 20,000 monthly website visitors. More importantly, the client's revenue and customer base also saw significant growth, proving the effectiveness of our Local SEO package.

This screenshot shows Attune's website reaching 12.3 million people and getting 177,000 new website visitors from Google Search.
"You Guys Changed My Life!"
Do You Want the Same… or Better Results?
By following a systematic approach that encompassed website redesign, custom strategies, SEO optimizations, blogging initiatives, and advanced SEO techniques, our agency successfully helped Jana's business reach over one million people on Google every month. As a result, Jana now gets clients and makes online sales 7 days a week.
If you've been struggling to generate leads online, you should schedule a strategy session with us today!