NEED QUICK WINS? RUN ADS ON GOOGLE!
Google Ads makes it easy for your small business to show up at the top of search results! The hard part is finding an ad agency you can trust to bring you leads, and an ROI on ad spend.
That's where we come in!
WE ARE ALL ABOUT PRODUCING TANGIBLE RESULTS.
One of our client's Google Ad was seen over 2 million times and resulted in over 13 thousand conversions!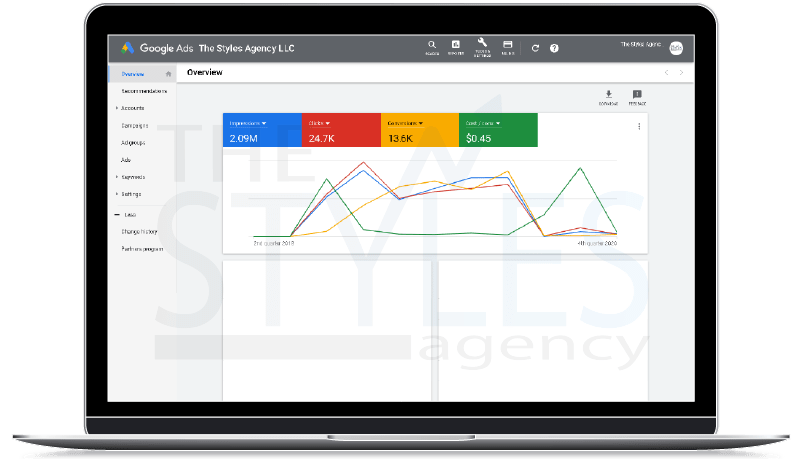 Research & Strategy
It's all about choosing the right keywords and placing the right offer in front of the right audience, at the right time. In other words, there's a lot that you need to get right if you're going to get an ROI from running ads on Google.
You can count on our Google Ads certified pros to choose the right strategy and approach and make improvements to your campaigns weekly.
Campaigns & Conversions
We want to make sure that your ad campaign is set up for success, and in a timely manner. In addition to setting up your campaign and offer, we will set up conversion tracking so we (including you) can keep track of the leads and sales that come from your Google Ads campaigns in REAL TIME.
Conversion tracking is how we keep track of the number of times people contacted your business either by calling, filling out a form, or purchasing.
Your Ad Copy (Text)
Our professional Google Ads copywriter will write your ad copy in accordance with Google Ads' advertising policies, so you can avoid getting your ads disapproved, and/or getting frustrated with the character limitations.
Save yourself the time and effort, and delegate the Google Ads copywriting to a team of pros who write Google Ads copy EVERY DAY.
Display & Retargeting Ads
In addition to Google Search, there's also Google Display Network. The easy way to explain the display network is to say that these are the ads that follow your customers around on the internet to get them to buy.
Display ads, aka banner ads, can also be set up for retargeting. Retargeting ads help you advertise to people who added to their cart but didn't purchase or showed interest but didn't convert.
Ongoing Optimization
We create variations of your ads, testing different variables, with the sole purpose of creating the ultimate Google Ads campaign. With split testing, you won't be stuck running an ad that doesn't convert well, like you would be with traditional advertising.
Who has time to monitor Google Ads closely every day, make tweaks every month, and keep track of performance? Our Google Ads team, that's who!
Monthly Report & Meeting
Your monthly report will show you how your ads are performing and provide other insights pertaining to your target audience and how they respond to your ads. During your monthly strategy call, your dedicated account manager will go over your results and what to expect moving forward.
You will also have access to your own dashboard where you can see everything that's being done on your campaign in REAL TIME!
Google Ads Management Packages:
Copywriting

Split Testing of Copy

Offer & Ad Creation

Campaign Management

Conversion Optimization

Live Reporting Dashboard

Monthly Report

Monthly Strategy Call

Landing Page Add On ($200)

Dedicated Landing Page

Thank You Page
Copywriting

Split Testing of Copy

Offer & Ad Creation

Campaign Management

Conversion Optimization

Live Reporting Dashboard

Monthly Report

Monthly Strategy Call

Landing Page Add On ($200)

Dedicated Landing Page

Thank You Page
Copywriting

Split Testing of Copy

Offer & Ad Creation

Campaign Management

Conversion Optimization

Live Reporting Dashboard

Monthly Report

Monthly Strategy Call

Landing Page Add On ($200)

Dedicated Landing Page

Thank You Page
Setup Timeline:
**Landing page development can take up to 4-5 business days.
Day 1 – Onboarding Call & requirements are shared.
Day 3 – Ad copy is sent for review/approval.
Day 5 – Ad campaign is built out.
Day 7 – Campaign is launched.
Edgewood Outfitters
2022-01-29
the styles team has been truly amazing to work with, Savannah has really taken the time to work with us and help us drastically improve our SEO! since we signed on with the team we have seen lots of great traction and lots of positive improvement! We have also started getting orders which we did not have before using her services! We highly recommend anyone looking for seo to use her services!!!!!!!!!!! so glad to have a great team behind us 🙂
DrakeRdOrthodontics
2021-11-16
We really enjoy working with Savannah! She does a great job with online marketing and is always very helpful.
I began my on-going working relationship with Savannah and Chris in late 2019. I had them build and optimize my website and my business has grown by 10% (even in COVID times!) Savannah is incredible to work with and she has a true passion for her work. She is always up for helping me curate new ideas to stay in front of my audience. The Styles Agency has helped me with so many different projects and I am truly grateful that they do the high quality hard work for me and make it affordable at the same time. Give them a try and thank me later!!!
The Styles Agency goes above and beyond to meet the needs of their customers. Being new to starting a business, and trying to design a website, facebook business page, and Instagram on my own was very overwhelming. From our first encounter I immediately felt I had someone on my team helping me through the process. Working with Chris and Savannah has been an absolute pleasure. They have always been very professional, personable, and accommodating. Their can-do attitude is refreshing in this day and time. I would highly recommend The Styles Agency for all of your social media needs. Darlene Tyler Joyful Organizing
Janice L. Jones
2020-04-03
I cannot tell you how happy I am to have found The Styles Agency. I started the Spotsy Arts Festival fours years ago and they are my fourth and final web designers. They designed a site that is attractive, fast, enticing and, to me, reflected what an art festival site should be. In other words it was not a static bland presentation. They are very responsive, as I need many updates, and so easy to work with. THANK YOU SAVANNAH AND CHRIS!!! You cannot go wrong when you work with these two!
WOW!! Thorough, quick, honest and trustworthy!! Savannah and Chris from the very beginning wanted to understand the ins and outs of my branding and business. They wanted to get to know me, and what kind of clients I attract, what I love, what I need. all for my website. My website looked OUTSTANDING. Better than I could have imagined. My traffic to my website exploded thanks to their expertise in SEO!! Thank you Savannah and Chris for making my project feel like it was the most important project on your plate!
The Styles Agency is a fantastic company. They have helped me tremendously as I started my non profit organization. They answer all my questions in terms I can understand and do it in a timely manner. They are very insightful making suggestions about things I had not thought about. My web page and Facebook page look fabulous. I get a lot of compliments on them. I would recommend The Styles Agency to anyone that needs help with their social media accounts. Theresa Sears Founder/ Executive Director Lets Go Services
Chris and Savannah are doing an amazing job as my social media consultants. They are very creative, always willing to chat and have really helped my online presence. I highly recommend them!!!
Michael Morrison
2018-10-03
Savannah is an absolute pleasure to work with. I've been working with The Styles Agency for 3 weeks now, and everything I've needed done with my website and social media has been completed quickly and the quality of their work is top notch. I highly recommend them for their skills, work ethic, and excellent service. - Mike
Get Your Ads Up and Running in 3 Easy Steps!
Discovery Call
Schedule a 15-minute discovery call to see if we're a good fit.
Strategy Session
Before you buy from us, let's make sure Google Ads is the right fit.
Onboarding
Day 1 starts, and our team gets right to work!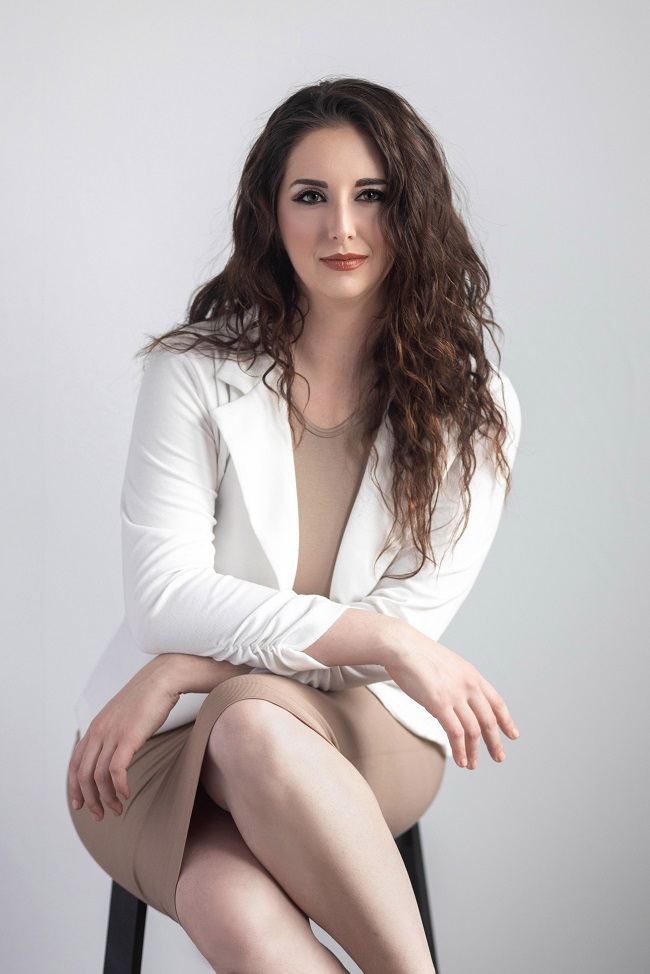 We Look Forward To Helping You Get More Customers!
Want to learn more about digital marketing and find a few tips to help you along your way?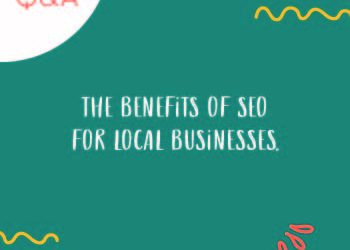 What are the benefits of SEO for local businesses?The benefits of SEO for local businesses include: more website traffic, in-store traffic, phone calls, and direction requests from locals. There are also other benefits such as more visibility, better keyword rankings,...
read more