10 Powerful Boutique SEO Tips

Running a clothing boutique is really exciting, and making your store visible online is super important for getting more customers. We've put together a list of important things you can do to make sure people can find your boutique easily online. Even our junior team members can handle these tasks, and have used these tips to help numerous online stores.
These are the basic strategies that even a professional SEO company would do when they start working on making a website show up better on Google. If you already know how to set up your boutique's website and social media, you're ready to do these SEO tasks yourself.
Now, let's talk about some helpful tips and things you can do to make sure your boutique shows up more often on Google. This will bring more people to your website, and even help you sell more stuff both online and in your physical store!
Establish and Validate Your Google Business Profile:
To make your boutique popular online, start by setting up and confirming your Google Business Profile. This helps people find your store on Google maps when they look for things like "women's clothing store near me" or "clothing boutique near me."
Not just that, when folks search for boutiques in your city, your Google Business Profile will also show up. With this profile, you can share news, show off your products, tell about special deals, and collect reviews from happy customers. All of this makes it more likely for your store to show up at the top when people search online.
If you haven't set up your Google Business Profile yet, take the first step by clicking the link below: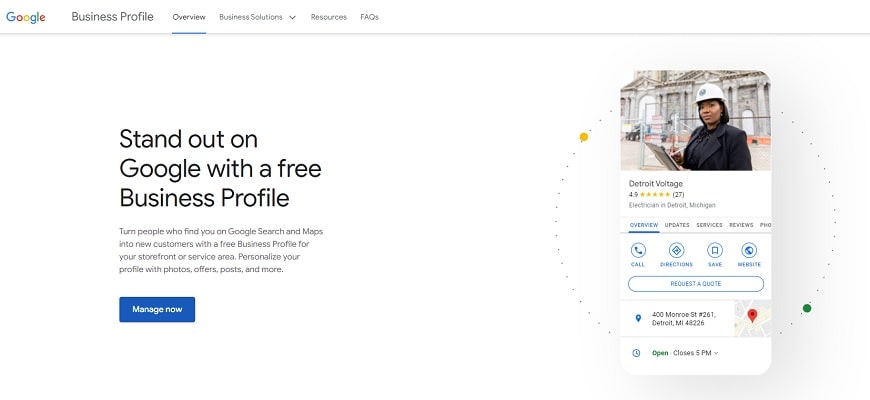 Upload Your Products to Your Google Business Profile:
You can actually show off and promote your products right on your Google Business Profile. Our boutique friends have seen a big boost in people visiting their website and asking for directions after they put all their products on their profiles.
It's easy to do – just log in to your Google Business Profile account, find the "Products" section in the menu, and start adding pictures and details of what you sell.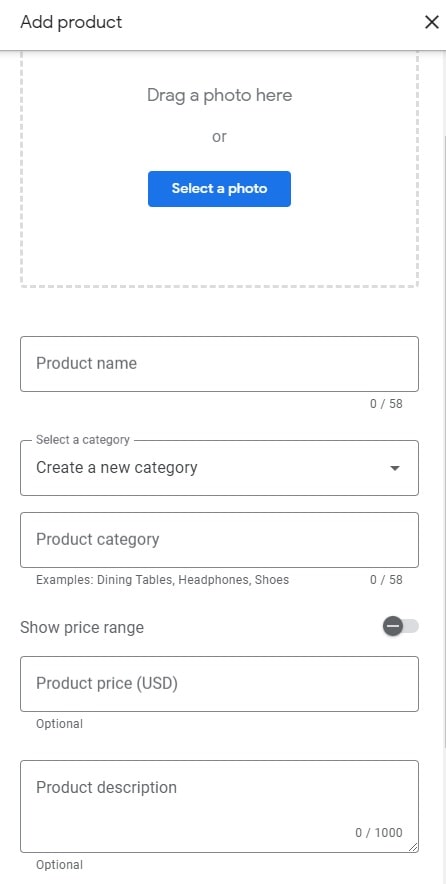 Regularly Publish Updates on Your Google Business Profile:
Staying active on Google is super important. You should share new things on your Google Business Profile at least once a week. Google likes it when businesses stay current and lively, and if you keep updating, it shows your boutique is lively and connected.
Making a post on Google My Business is as easy as creating a post on social media. You can even put clickable links and buttons in your posts, so potential customers can shop.
It's a good idea to put up products, special offers, news, pictures, and stuff like what you put on your social media. Keep track of how many times people see your posts and how many click on them – this helps you know if they're working well.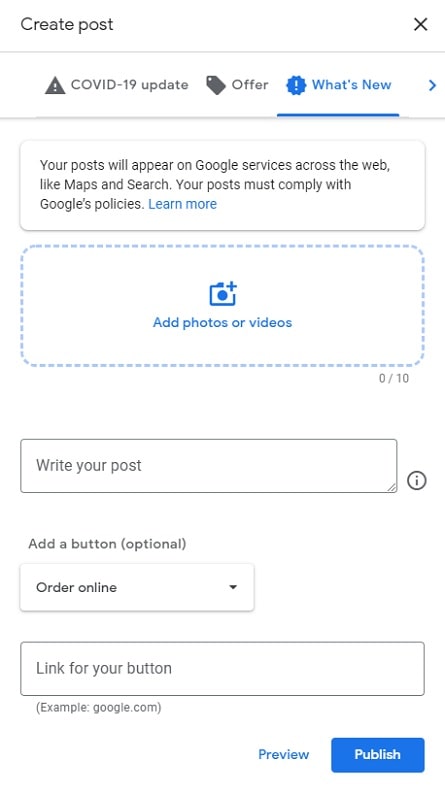 Encourage Customer Reviews on Google:
Recent studies emphasize the significance of reviews in SEO rankings. Businesses with an average rating of 4.1 stars or higher often outrank competitors on Google Maps. However, the sheer quantity of reviews can tip the scales in your favor when ratings are similar.
Encourage both new and returning customers to leave reviews on Google, increasing your listing's credibility and visibility. As your review count climbs, your Google Business Profile gains prominence in Maps results.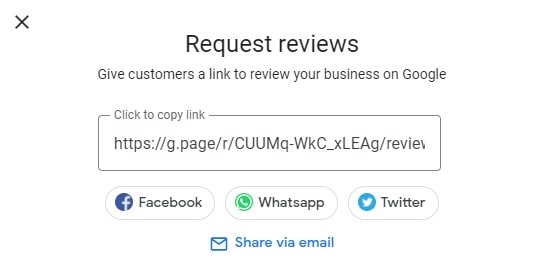 Keep Your Google Business Profile Updated:
Once your Google Business Profile is active, stay vigilant for emails from Google regarding holidays and special events that might impact your business hours. Regularly updating your hours for such occasions signals to Google that your information is accurate and relevant. Even if your hours remain consistent on holidays like Presidents Day, ensure you inform Google about these details. This practice reinforces your profile's reliability.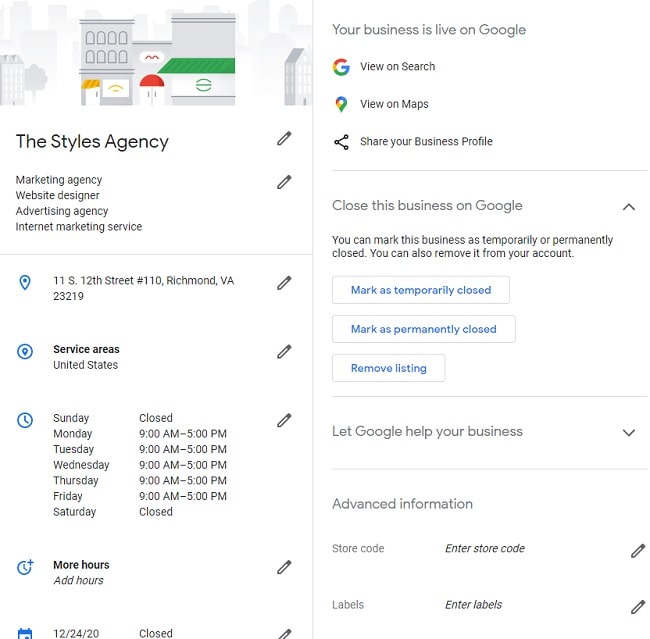 Optimize Navigation to Your Products:
Making your products easy to find on your website's main page is really important for showing up higher in search results. A trick to follow is to make sure the most important pages are only two clicks away from your homepage. This makes things better for people using your site and helps with how well your site shows up in search engines.
Imagine if someone who visits your site can get to a product page with just two clicks from the homepage. But if it takes more than two clicks to find a product using filters for brands and categories, both how well your site shows up on search engines and how easy it is for people are affected.
Craft Unique Title Tags for Every Product Page:
Surely, you've heard about title tags and meta descriptions. Title tags significantly impact search visibility. They appear as clickable blue text in Google search results, enticing users to click through to your website.
Ensuring each product page boasts a unique, descriptive title tag enhances search relevance and click-through rates. For detailed insights into crafting impeccable title tags, refer to Google's comprehensive article on the topic.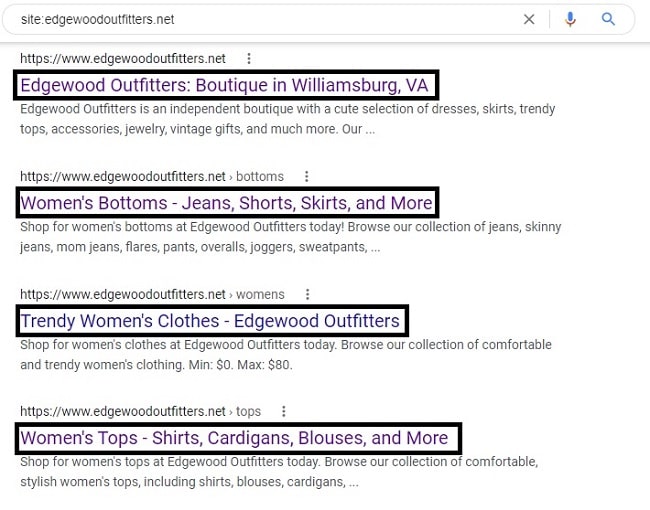 Give Each Product Page a Distinctive Meta Description:
Meta descriptions, the brief snippets displayed under clickable links in search results, play a crucial role in enticing users to visit your site. Crafting unique meta descriptions for every webpage reinforces your boutique's individuality and provides compelling calls to action.
To create distinctive meta descriptions, use relevant keywords, briefly describe the content of each page, and add a captivating call to action. Remember, each page's meta description should be distinct, avoiding repetition.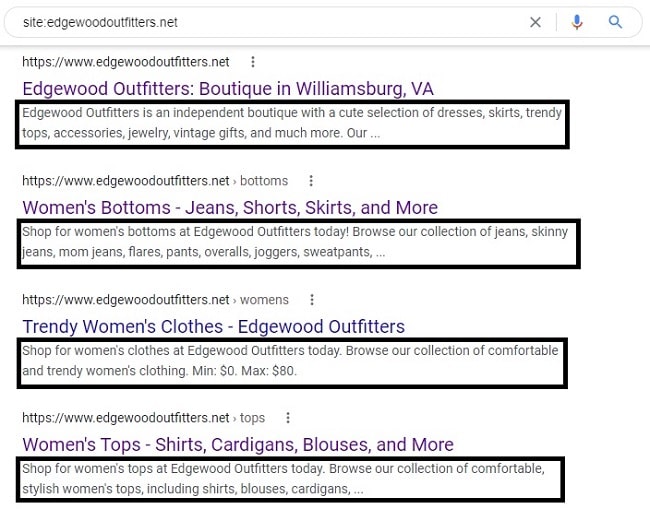 Enhance Product Descriptions:
To help your products rank higher search results, aim for a minimum of 300 words in each product description. This minimizes the issue of "Low text to HTML ratio," which can hinder SEO performance.
While employing an SEO expert for keyword research and content creation is optimal, writing your own product descriptions is viable. Aim for 300 words per description to improve both SEO and customer engagement.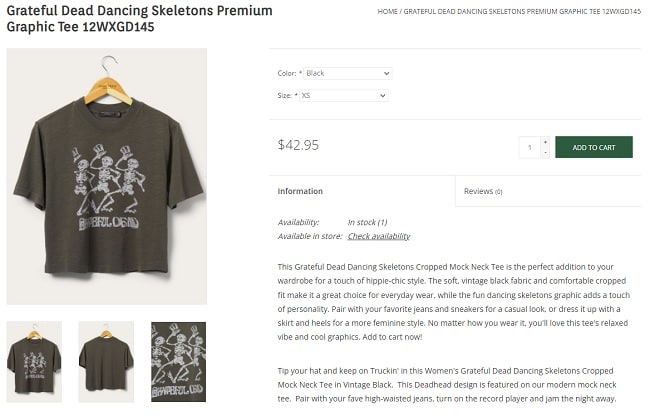 Optimize Image File Names:
Image file names can significantly impact SEO, especially for "long tail keywords" encompassing multiple terms. Ensuring your image file names match the product's name enhances your chances of ranking high for specific search queries.
Remember to rename each image before uploading it to your site, including the product's name in the file name. This practice improves the visibility of your images in Google's Image Search results.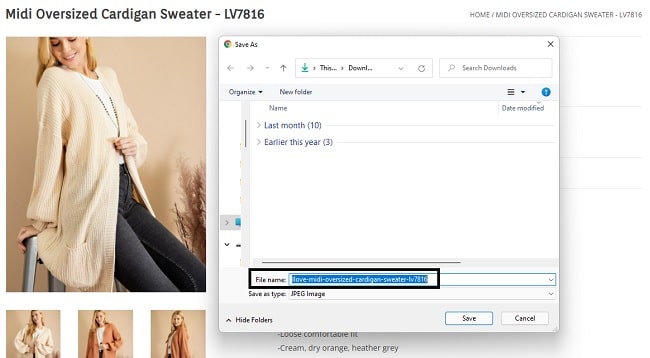 These Boutique SEO Tasks Empower You to Take Control:
By embracing these ten fundamental boutique SEO tasks, you're in a prime position to enhance your online visibility, website traffic, and sales potential. Implementing these strategies doesn't require immediate investment in professional SEO services. However, as your business grows, consider partnering with seasoned SEO experts to tap into the full potential of SEO and Google.
Remember, these tasks aren't merely about tips; they're about tangible results. Whether you choose to implement them yourself or enlist the expertise of professionals, the power of SEO is undeniable.
For Those Seeking an SEO Strategy:
While these tasks empower you to take the reins of your boutique's online presence, it's important to acknowledge that SEO is a complex domain. SEO also includes, for example, internal linking, getting rid of duplicate content, writing blog posts, enhancing user experience, and more.
If you're feeling overwhelmed, the question to ask might not be "how" to handle SEO, but rather "who" can guide you through it. Are you after SEO tips or substantive SEO outcomes? Quality SEO professionals offer comprehensive solutions, saving you time and ensuring optimal results.
Seize the SEO Opportunity for Your Boutique!
These ten boutique SEO tasks empower you to seize control of your online destiny. Implement them now to experience the transformative power of SEO firsthand. When the time comes to advance your SEO journey further, we're here to guide you through every step. Best of luck, and let your optimized presence flourish!
Get More Tips and Secrets Sent to Your Inbox!
Chris Morgenroth is your guide to mastering the art of digital marketing. Based in the charming city of Richmond, Virginia, Chris brings over 15 years of hands-on expertise in propelling small businesses to new heights by attracting and retaining clients. Currently a pivotal force at The Styles Agency, Chris is passionate about weaving creativity and strategy to unlock the true potential of online business promotion. Join Chris on a journey of discovery as he shares invaluable insights and proven techniques to navigate the dynamic world of digital marketing. Connect with Chris on Linkedin.
Dive Deeper into SEO For Boutiques:
For those eager to deepen their search engine optimization knowledge and access further tips, our recent articles provide a treasure trove of insights.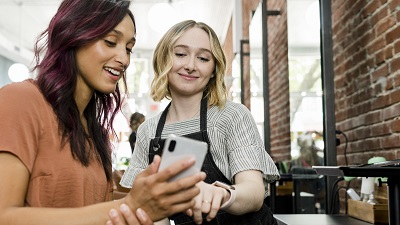 How to Get More Google Reviews.Getting more Google reviews for your business is essential for building credibility and attracting new customers. When potential customers see positive reviews, they're more likely to trust your business and choose your products or...