Boutique SEO Tips – 10 EASY Boutique SEO Tasks You Can Do Today!
There are basic SEO tasks that any clothing boutique owner should be able to do without hiring a digital marketing or SEO agency. The entire list we compiled include basic SEO tasks our junior SEO team members take care of. These are fundamental SEO tasks that will set you up for success, and they're also tasks that you can expect an SEO company to do for you in the beginning of a Search Engine Optimization (SEO) campaign.
If you can set up your boutique's website and social media accounts, then completing the following SEO tasks should be easy for you to do.
We're not going to get advanced by talking about SEO tools, marketing strategy, or targeting keywords. All those tasks take time and expertise to get right. We're just going to focus on a simple local SEO and ecommerce SEO strategy that will help your boutique and the products you sell rank higher in search engines.
We highly recommend you download the boutique SEO checklist to go along with these SEO Tips. The checklist comes with a weekly email to help you complete one item on the checklist each week. Plus, it's free, and there's no sales pitch attached! Here's the link to the checklist: Clothing Boutique SEO Checklist.
Now, let's dive into some boutique SEO tips and tasks you can do to increase your visibility on Google, your website traffic, and your online and in-store sales!
Create and verify your Google Business Listing.
Doing this gives your boutique the opportunity to show up in the maps section of Google Search results when potential customers in your area are searching for:
Women's clothing store near me
Clothing boutique near me
Also, when people search for boutique in [city], your Google Business Profile will show up in Google Search results.
With a Google Business Profile, you can share updates, promote your products, share special promotions and discounts, and collect reviews from happy customers (which helps your listing show up at the top of the search results).
Need to set up your Google My Business page?
Click the link below to go straight to Google and get listed.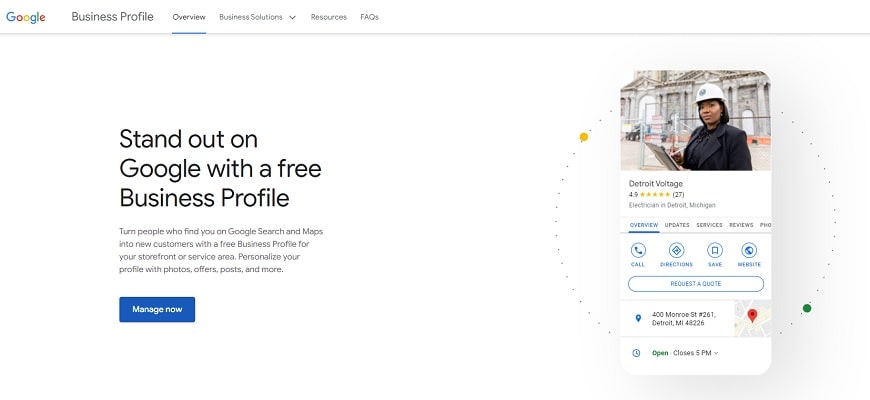 Upload your products to Google Business Listing.
Did you know that you can upload and promote your products on your Google Business Profile? You can. In fact, our boutique clients are seeing a lot of website traffic and direction requests after posting all their products on their Google Business Listing.
All you need to do is log in to Google My Business and find "Products" on the left-side menu. Click on "Products" and then start uploading them.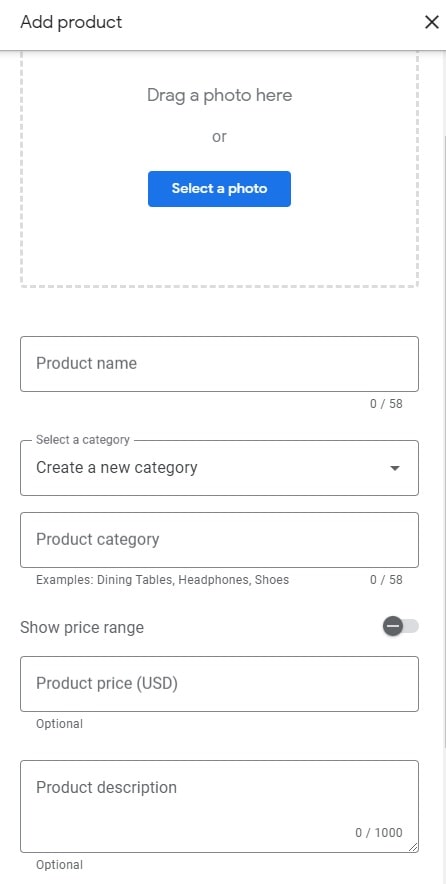 Post updates every week on Your Google Business Listing.
If you want to increase visibility in Google, you need to post updates on Google My Business at least once a week.
Google favors business pages that are up to date and active, and one way you can show Google that your business is active, and thriving is to consistently post updates on your Google Business Profile (Google My Business page).
Posting an update is easy. Just log in to Google My Business, click on Posts in the left menu, and create a post just as you would on social media. The best part is you can also add a clickable link and button to every post.
We recommend that you post products, promotions, updates, images, and whatever else you would normally share on your company's social media accounts. And every week, log in to GMB to see how many impressions and clicks your posts are getting.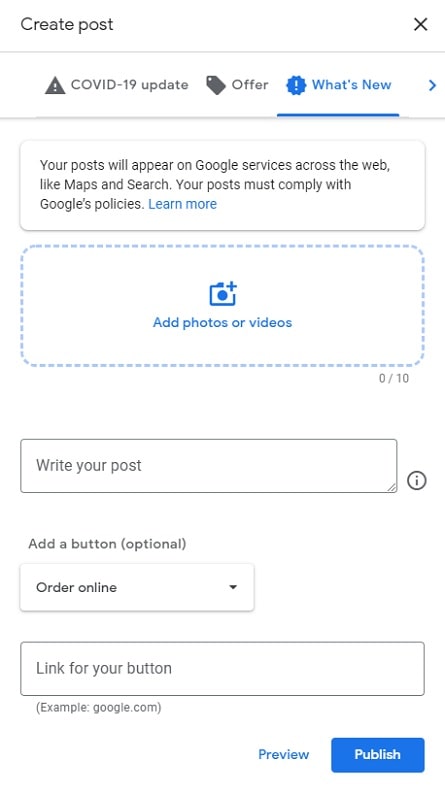 Actively encourage customers to leave reviews on Google.
Recent studies have shown that companies with an average rating of 4.1 stars tend to outrank competitors on Google Maps. But what separates the companies if all of them have an average rating of 4.1 stars? The number of reviews.
The business with the most reviews, and with an average rating of 4.1 stars will outrank local competitors in Google Maps.
So, what you need to do is encourage every customer, old and new, to leave you a review on Google!
Trust me, you will see your Business Listing rise to the top of the Maps results if you can manage to get more reviews than your local competitors.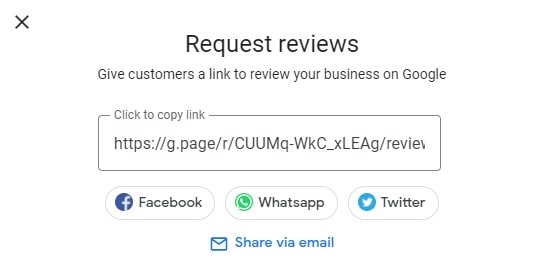 Keep your Google Business Profile Up To Date.
When you have a Google My Business profile set up for your boutique, Google will periodically email you about holidays, and other events that may alter your hours of operation.
When Google sends you those emails, make sure you go into Google My Business and update your business hours for those special days and holidays.
When you do this, it shows Google that your listing is kept up with and has the most relevant, recent information on it.
Even if your hours don't change on days like Presidents Days, you should still go in and let Google know your hours are the same on that date.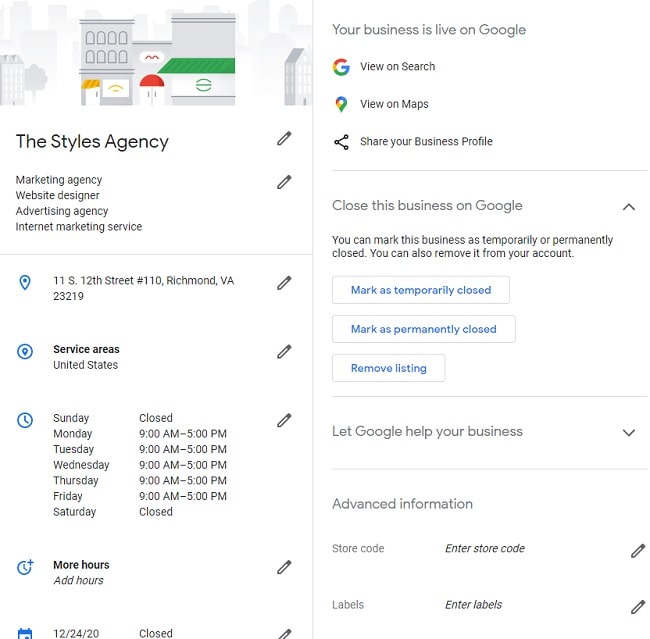 Make Sure Every Product is No More Than 1 to 2 Clicks Away From Your Home Page.
If you want your products to show up higher in Google Search results, then you need to make sure that all of your products are easily and quickly accessible from your home page.
The general rule of thumb is every important page should be no more than 2 clicks away from the home page.
So, if I visit your home page, click on a category page, then click on a product, then your product is only two clicks away from your home page (that's good). But if I must click on a brand, then a category, then the product, that's not good for SEO or "user experience".
Are YOUR products easily accessible from the home page? If not, that's something that should be fixed ASAP so your products can start showing up higher in Google Search results.
Give Every Product Page a Unique Title Tag.
One of the most common SEO problems we see on boutique websites has to do with Title Tags. More specifically, a title tag on one product matching the title tag on another product.
By the way, a title tag shows up in Google Search results as the Blue Clickable Text that you can click on to visit a website from Google Search.
If you're on a desktop or laptop, you can hover your mouse over the internet tab you're on and the title tag will appear.
What you want to do is make sure that every product on your website has a unique, descriptive title tag.
As a matter of fact, Google published an article that tells you how to craft perfect title tags. If you're interested, you can visit the link below: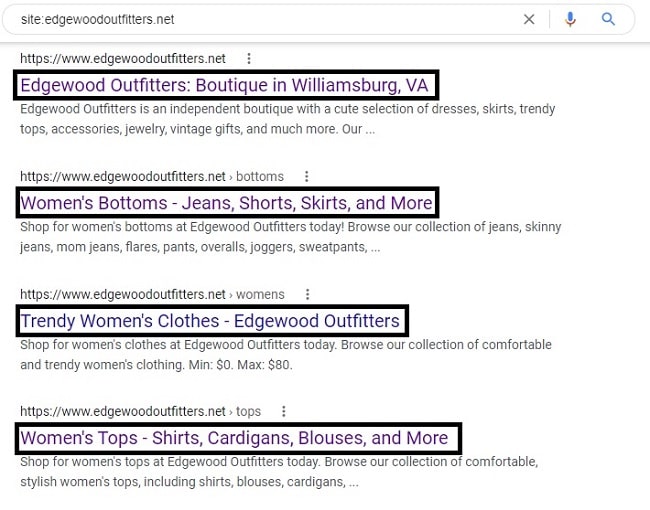 Give Every Product Page a Unique Meta Description.
The easiest way to explain meta descriptions:
It's the couple of sentences that shows up under the clickable links in Google Search results.
Did you know that you can control what each web page's meta description says? You can! In fact, every web page on your website should have a unique meta description.
Here's how you make a meta description unique:
Describe what's on the page briefly.
Give an enticing call to action.
There are other advanced SEO tasks you can do to optimize your meta description further, but to start strong, you need to make sure that every single page on your website has a unique meta description (and no two pages should have the same meta description).
The easiest way to give your pages unique meta descriptions is to Google Search, "how to add meta descriptions to pages on ____". Fill in the blank with your website platform (WordPress, Wix, Shopify, Squarespace, etc…) For example, "how to add meta descriptions to pages on Shopify".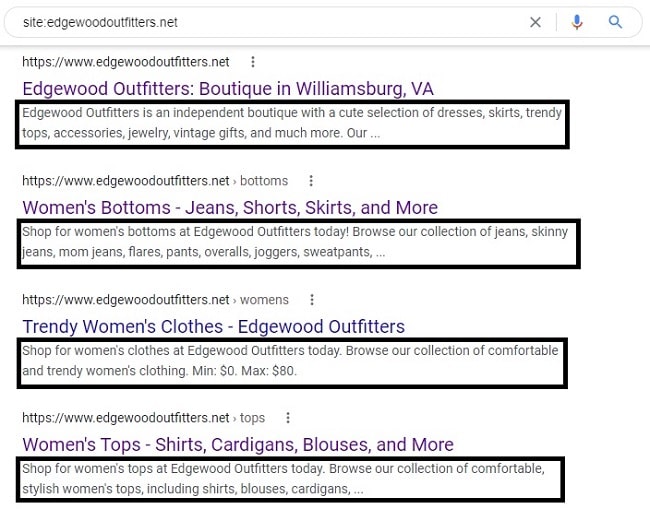 Product Descriptions Should Have at Least 200 Words.
Do you want your products to rank higher in Google Search results when potential customers are searching for exactly what you sell? Of course, you do! Why wouldn't you???
One of the biggest SEO mistakes we find on product pages is referred to as "Low text to HTML ratio". That's just a fancy way of saying, "there's not enough text on this page".
For your product pages specifically, you should aim for 300 words in every product's description. Ideally, you would hire an SEO pro to conduct keyword research and write the copy for you, but if you want to do it yourself, then shoot for 300 words in every description.
If you're interested in writing great product descriptions and the copy for other pages on your website, we have an article on our website that gives you a ton of tips. Here it is: Copywriting Tips.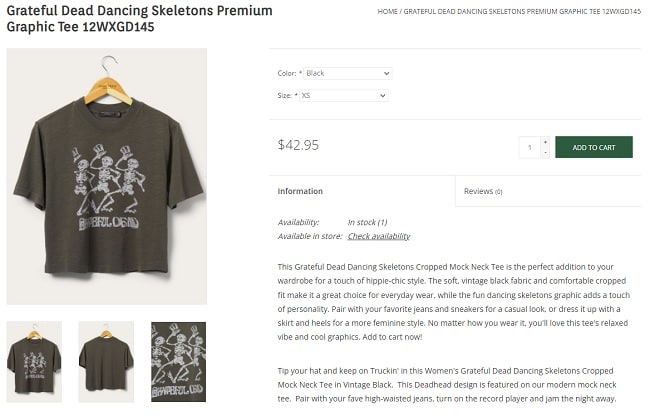 Every Product's Image File Name Should Be the Product's Name.
When you add new products to your website you have to upload images to go with them. Did you know that your image file names can impact your SEO? They can. In fact, it can help your products rank high for "long tail keywords" which are search terms (what people search for) that include more than one or two words.
In fact, if you want your images to show up in Google's Image Search results, then follow this simple step with every image you upload to your site from this point forward:
Put the product name in the image file name.
On your computer, right click on the image and rename it – give it the product's name and save. Then upload the image to your website.
Do this with all of your product images and I guarantee you that you will get more website traffic from people who are searching for the product you sell.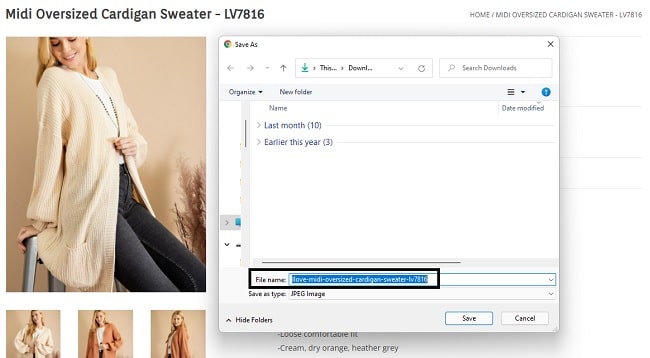 These 10 Boutique SEO tips can help you avoid paying for SEO services… for now…
We hope you take every tip and apply it as soon as possible, so that you can start to feel the power of SEO for yourself and feel proud of yourself for doing it yourself!
But there will come a time in your business's future when you'll want to invest in SEO services to capitalize on the full potential of SEO and Google. Whenever you're ready to take that step, we'll be right here to help.
Best of luck to you! Now, go kick some SEO butt!
If you're struggling with SEO, then you may want to start asking, "Who?" Not "How?"
SEO is very complex. You could spend hours on YouTube and Google trying to learn it all as you go, or you could find high-quality SEO professionals to do it all for you.
Would you rather get SEO tips or SEO results?
Interested in hiring SEO experts?
Learn more about our Local SEO services and see all the awesome benefits that we packed into our Ultimate Local SEO program.
Want to learn more about digital marketing and find a few tips to help you along your way?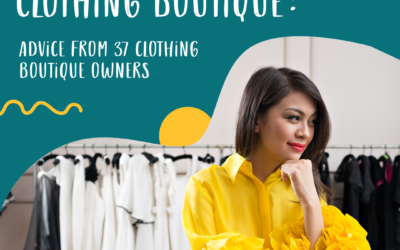 Wondering how to start a clothing boutique?If your business idea or dream is to start a clothing boutique then there's no better place to get advice than from boutique owners who have already been where you are and are currently running a successful boutique. Whether...
read more