What are the benefits of SEO for local businesses?
The benefits of SEO for local businesses include: more website traffic, in-store traffic, phone calls, and direction requests from locals. There are also other benefits such as more visibility, better keyword rankings, and credibility. There are so many perks to ranking high search engine result pages!
Most local business owners only care about the organic (unpaid) traffic, leads, and sales that SEO brings, so that's what we'll focus on.
The Four Main Benefits of SEO for Local Businesses:
Local SEO is a long-term game. However, it's not uncommon to start seeing more targeted traffic, leads, and sales in the first 30 days when you work with a credible SEO agency. In the long run, SEO for small businesses is also more cost-effective than Google Ads, or any other form of paid advertising.
Here are some benefits you can look forward to when you do Local SEO correctly.
Local Business SEO Benefit #1 – You'll Get More Website Traffic From Locals.
Most small business owners who invest in SEO want more website traffic, because every visit is an opportunity to leave an impression, generate a lead, or complete a transaction. If you serve a local market, then you want to make sure that people in your area can find your products or services when they're in the mood to buy.
If people cannot find your website on the first page of Google Search results, then you're missing out on opportunities to make a sale.
Local Business SEO Benefit #2 – You'll Get More In-Store Traffic From Locals.
For brick-and-mortar businesses, Local SEO can significantly increase foot traffic. One of our boutique clients who has been in business for over 35 years still has people come in and say, "I never knew you existed!" Other times, customers say, "I pass by your place every day, I just never came in."
So, even after 35 years in the same location, our client Kiss & Make-Up is still attracting first-time customers from SEO efforts.
Local Business SEO Benefit #3 – You'll Get More Quality Leads.
When potential customers search for a product or service you offer and find your website or business listing on the first page of search results, they will likely visit your website. The beauty of SEO is that search engines sort their results based on relevance.
When people search for a digital marketing agency in Richmond and find us on the first page, most of them convert into leads by calling us or filling out a form on our website.
And that's exactly what happens to every other business with good SEO!
Local Business SEO Benefit #4 – You'll Get More Sales Opportunities.
Local businesses that sell products online or in-store will benefit from showing up on the first page of Google, Yahoo, and Bing Search engine results. Local businesses that sell services will also have more sales opportunities in the form of leads from Local SEO.
In a nutshell, if local customers (your target audience) can find your business in local search results, you should have no problem making more sales. Especially when they come to your business website prepositioned to buy!
If you're struggling with SEO, then you may want to start asking, "Who?" Not "How?"
SEO is very complex. You could spend hours on YouTube and Google trying to learn it all as you go, or you could find high-quality SEO professionals to do it all for you.
Would you rather get SEO tips or SEO results?
Get More Tips and Secrets Sent to Your Inbox!
Want to learn more about digital marketing and find a few tips to help you along your way?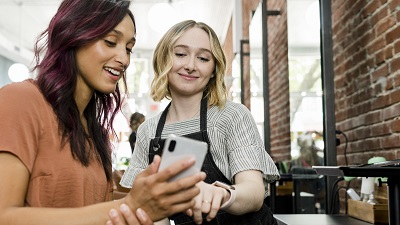 How to Get More Google Reviews.Getting more Google reviews for your business is essential for building credibility and attracting new customers. When potential customers see positive reviews, they're more likely to trust your business and choose your products or...
read more